"NIKE" Air Jordan I 1985 Prototype
I'm not 100% sure about this, but I don't believe that the original 1985 Air Jordan I was oringally designed FOR Michael Jordan...They might have just slapped on the Air Jordan logo and ran with it. It kinda makes sense if you think about it. MJ signed the dotted line in 1984, and by that time, the 1985 Nike Basketball lineup should've already been designed and established. That might explain why the Air Jordan I has a lot of similarites to a lot of the 1985 Nike Basketball shoes including the Nike Dunk, Nike Terminator, Nike Big Nike, etc. If this info is incorrect, please shoot me an e-mail...Anyways, this pair is an incredibly rare Sample pair of Air Jordan I's with the original NIKE stamp on the bold-outlined Wings logo. There are a lot of subtle differences when comparing these to the final production pair. The most noticable would be the leather that they used on the upper. The white panels are peeling due to age, while other pairs that released are still in tact. The midsole used is also slightly different. Notice on the tongue label that there isn't the "AIR" under the Swoosh, as it just has the "NIKE" on top. This is one of the rarest pairs of Air Jordan I's in existence.
Powered by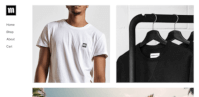 Create your own unique website with customizable templates.