Hello world! I must say that it feels SO good to be back... I seriously can't thank you enough for continually supporting me and this little blog of mine. Since my temporary hiatus started, I've received numerous e-mails and social media mentions about when my blog was going to return... Well it's back up, and I decided to slightly revamp the visuals. Yes, I changed the site layout, but I'm also going to change up the content a little bit. I'm still going to post a good amount of my personal stuff from my own collection, but I am also planning on sharing more of my older photos I've saved on my hard drive throughout the years. Here's a quick example...
Ruben's black/gold I's have caused quite the commotion over the years throughout the OG I community... Are they the real unicorns, or are they high-quality fakes from a long time ago? Let me know what you think.
Powered by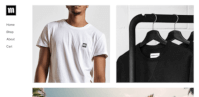 Create your own unique website with customizable templates.