2015 was a ridiculous year for releases in the footwear industry. It seemed like there were releases every weekend, and hundreds of cool shoes were available for purchase. Unfortunately, I couldn't get every single drop that I wanted, but with my collecting habits, I have to be very selective with what I purchase. I've picked up a lot of other things as well, including PE's and Samples, older GR stuff, vintage pairs, etc. this year, but I wanted to piece together pairs that released specifically in 2015. Yes, there are pairs that I wanted to add (such as the 72-10 Jordan XI and the Chi Jordan XX3), but I struck out on them during launch... This doesn't mean that I won't snag them in the future!

With that being said, here are my 5 favorite GR pickups that I scooped up this year.
5. Air Max Zero
I'm a huge fan of story telling behind releases, and the background behind this release was too good. Tinker Hatfield is obviously a sneaker legend, and the fact that this shoe was merely an early sketch or prototype made me want them that much more.
4. Ultra Boost
I don't say this often, but the adidas Ultra Boost is one of the most comfortable (if not THE most comfortable) shoes that I've ever put on my feet. I'm a huge fan of bright and loud colors, so these immediately caught my attention. I've purchased three pairs of these for good measure.
3. Kobe X ELite Low
These Kobe's were super slept on in my opinion. I'm a sucker for pink shoes, and these have just the right amount. I loved the difference in color with the lateral and medial split, as well as the Swoosh placement on the vamp. I think that if these were an unreleased Sample, or if there was an HTM somewhere on there, these would've been more sought after. Either way, I had to snag multiple pairs.
2. Air Force One Hi
I've always been a fan of the original purple hi AF1. I've come across used pairs in other sizes, but I've wanted to track down a DS pair in my size range for as long as I can remember. The hunt for the OG's is still in progress, but these Remastered Retros will definitely suffice for now.
Kyrie 1 ID (Honorable Mention)
There are older NikeID models that I regret not making more of (such as the Kobe IV), so I decided to make the most out of the Kyrie 1 ID options and casually make some throughout the year. I love the Kyrie 1 silhouette, so I knew that if I didn't capitalize on the ID options, I'd kick myself in the ass later down the line...
1. Air Jordan I
This was a no-brainer for me. I'm a huge 1985 Air Jordan I fan, and I was really excited to see a legitimate re-released version of one of my favorite shoes of all time. These look good with almost any outfit, they feel great, and I need to get more pairs in the future. If you look closely, you can see a ton of heel drag already...I wear these A LOT. This decision for me was very easy, and knew that these were going to be my number 1 for 2015 as soon as I left the store during the release date.

Thanks for viewing my Top 5...See everyone next year!

-Jermaine

Powered by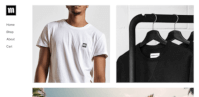 Create your own unique website with customizable templates.