"Squad Goals: To make the coffee snob and the sneaker head become homies over a love for all things premium."
Deadstock Coffee is a sneaker-themed coffee shop located here in Portland, OR. Known as the first of it's kind in the United States, sneaker aficionados from all over the world are now adding this spot to their destination list. Ian worked at Nike WHQ for nearly a decade prior to this business venture, so he definitely knows what's up. I've met a ton of people in the sneaker industry, and Ian is one of the most knowledgable sneaker nerds that I've ever met.

"Peace out homies!" -Ian Williams
Powered by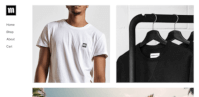 Create your own unique website with customizable templates.